Come to the Family Table by Ted and Amy Cunningham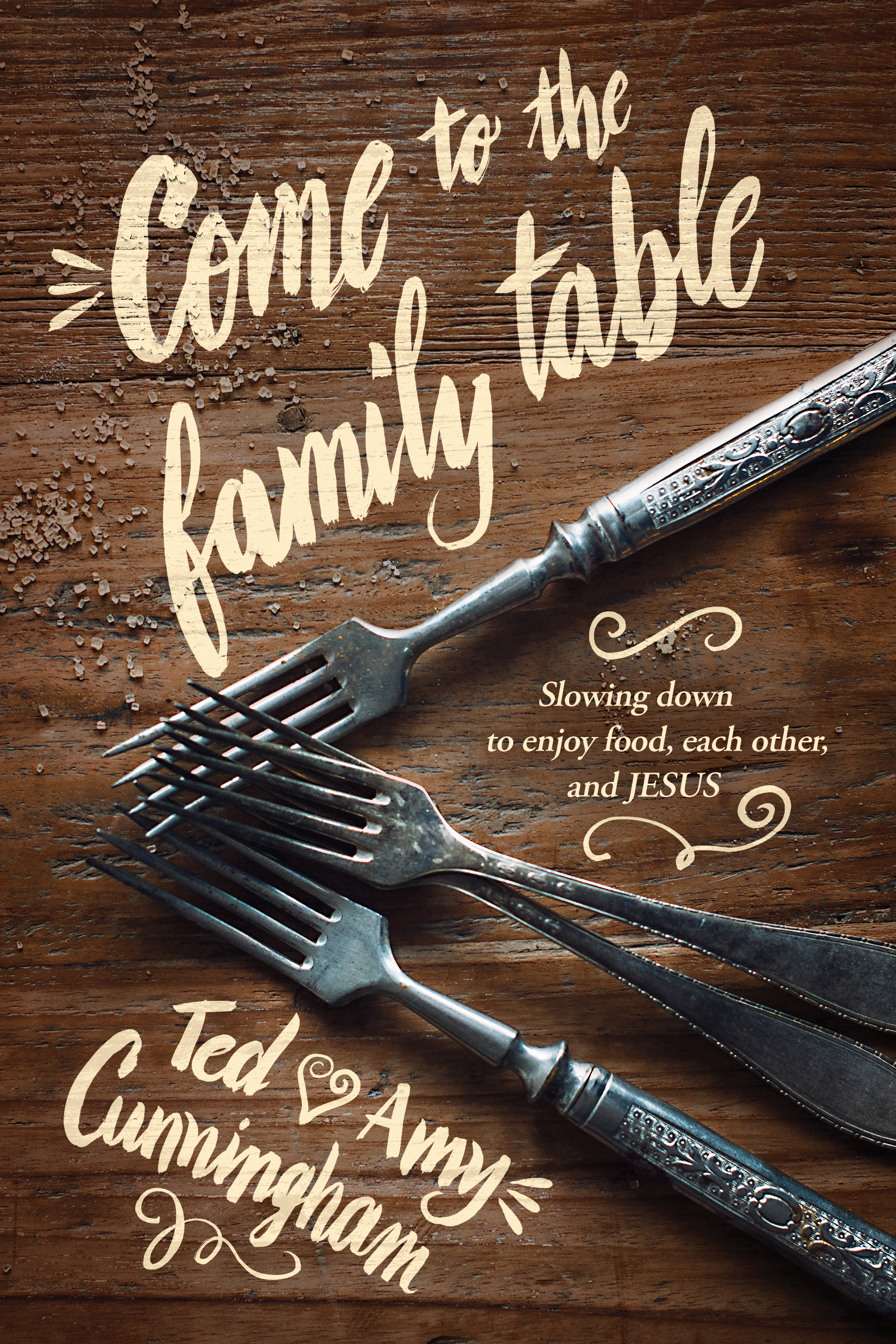 Do your family meals feel rushed and stale? Do you have a fear of cooking for guests at your house?
Come to the Family Table
by Ted and Amy Cunningham, inspired by the slow food movement, offers ideas for providing your family with mealtimes that they will long remember for creating special memories. It also offers encouragement and advice to offer guests friendly hospitality that doesn't have to be perfect to be fun for all.
Come to the Family Table
is divided into two sections: The Family Table Is For Us and The Family Table is For Others. Each of the five chapters within these two sections offers advice on how to enhance your mealtimes with the people you are with, a Cunningham family recipe, an idea for a relational game you can play, and a Christian devotional/prayer to go with the meal.
I enjoyed
Come to the Family Table
so much that I could have read it in one sitting if my schedule had allowed for the luxury. I found the writing to be easy to read and relate to. Recently an old school friend of mine came back to the area for a visit and we had a delicious meal out at our favorite restaurant. It gave me a taste of how much I enjoy those precious times eating together and reminded me of how much I want to do more of that.
Come to the Family Table
shares so many good ideas on how to do hospitality and how to share meals anywhere, ideas for good conversation and other entertaining ideas that all sound so easy to implement. I think sometimes I just make it too hard in my head and the ideas in this book could help me get past that if I will just implement them. It is naturally easier for me to make special meals for my family but this book also gave me some good ideas to open up new conversations with them, as well as to share and support each other to have the best overall family experience we can have as we do life together. In addition, the 10 recipes that are included sound good. A few of the recipes that are offered include: Blueberry-Lemon Muffins, Jill's Chicken Soup, and Sarah's One-Pot Pumpkin Salsa Soup. I highly recommend this book to every one.
I received
Come To the Family Table
from the publisher, NavPress/Tyndale House Publishers. I was not required to write a positive review.
About the Authors:
Ted Cunningham
is the founding pastor of Woodland Hills Family Church. He enjoys being married to his wife of 18 years,
Amy
. They live in Branson, MO with their two children, Corynn and Carson. He is the author of
The Power of Home, Fun Loving You, Trophy Child,
and
Young and In Love
and coauthor of four books with Dr. Gary Smalley including
The Language of Sex
and
From Anger to Intimacy
. He is a regular guest on Focus on the Family, Life Today, and Moody Radio. He is a graduate of Liberty University and Dallas Theological Seminary.