Charles Spurgeon Journal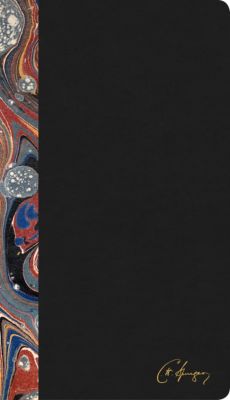 Besides reading, one of my favorite activities is journaling. This new Charles Haddon Spurgeon journal is a gorgeous new journal for the Spurgeon fan who likes to write or take notes. Spurgeon quotes grace the bottom of many of the lined pages. Quotes like, "The people of God should be about their Father's business." and "Think much on Grace, Christian." Along with each quote, is the corresponding sermon title and sermon number.
The C. H. Spurgeon journal is 140 lined pages. I would describe the line spacing as "college ruled" as the lines are closer together than some journals, which I personally like. This journal is also a good size to carry along to take sermon notes at church or to write on the go. It measures 5" by 8.25 inches. The front of the journal has a customizable table of contents to go along with the numbered pages on the journal. This journal is a combination of leather and hard bound with a ribbon marker to keep your page. It is a classy looking journal that is definitely much nicer than many other journals. I think this would be an especially nice gift for someone in the ministry or anyone with an interest in C. H. Spurgeon who likes to write notes or journal. It also would make a nice companion to the C. H. Spurgeon Study Bible.
I received this journal from Broadman and Homan Publishers/Lifeway. I was not required to write a positive review in exchange for the book.