CSB Notetaking Bible from Holman Bible Publishers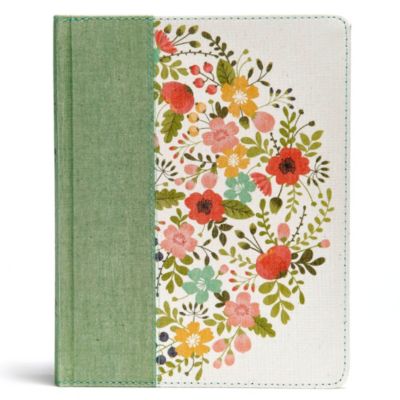 The new
CSB Notetaking Bible
from Holman publishers is just gorgeous at first glance. While it is more important to read your Bible than look at it, this Bible just invites me to pick it up and read it--and journal in it.
While the print is 8 point type and not real large in this Bible, it does boast a single column text with 1.75 inch margins for notetaking. It is also not real large, at
8 inches long by a little over 6 inches wide and 1 1/2 inches thick, so it would be great to carry to church for sermon or Bible study notes. It is also a beautiful Bible for those who enjoy Bible art journaling. The pages aren't real thick but they would work great for colored pencils or using gesso to treat the pages for using markers or paints that would bleed through.The Bible has some great extras--a concordance, Bible maps, and a one-year reading plan. The CSB stays as literal as possible to the Bible's original meaning without sacrificing clarity, making it easier to engage with Scripture's life-transforming message and to share it with others. The CSB version stays as literal as possible to the Bible's original meaning in a clear way so as to understand what the Bible is truly saying, for easy readability and to be able to share the truth of the Bible with others.
Overall, this Bible is a truly lovely Bible with great text to study on a daily basis and a good size to carry to church for worship and Bible study. I like the space given to taking notes, journaling or drawing. I have also seen these journaling Bibles used at weddings and showers to write notes to the couple in the margins sharing favorite verses to create a special keepsake. This Bible would be great for that. I would recommend it to anyone looking for this sort of Bible.
I received this Bible from Lifeway/Broadman and Holman Publishing Co. I was not required to write a positive review in exchange for the Bible.