Just Open The Door by Jen Schmidt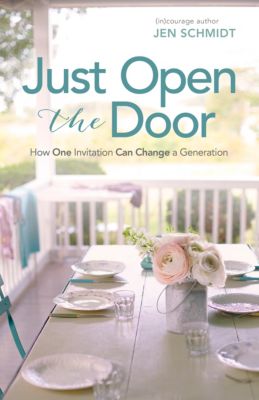 Does the thought of inviting another couple over for dinner have you tied in knots? If so,
Just Open the Door
by Jen Schmidt is a great book to read to help set your mind at ease about that social situation and many others.
Schmidt writes a warmly-written inviting book that gives the reader the idea that this woman could lovingly guide them into being a better hostess. Schmidt starts out
Just Open the Door
by defining Hospitality. She also explains that there is a difference between hospitality and entertaining. She shares throughout the book about how to offer hospitality and why it is important as a Christian. Several of her guests write stories about how her hospitality has influenced them and they are shared throughout the book. Also, at the end of each chapter, Schmidt shares a letter from a blog reader and her answer to their hospitality questions--which may be your question too. Then she ends each chapter with a few brief questions or thoughts to think about in your own situation.
I enjoy
ed Just Open the Door
and did feel inspired to offer hospitality. I also truly appreciated her warm stories and her encouraging tone of voice. She comes across as someone who has information to share but doesn't act like she is above you. She just seems so practical, down-to-earth and like a nice person to share a cup of coffee or tea with. I highly recommend it if you are looking for ideas and encouragement to start opening your own door to others around you.
I received
Just Open the Door
from the publisher. I was not required to write a positive review.