Kids Say the Wisest Things by Jon Gauger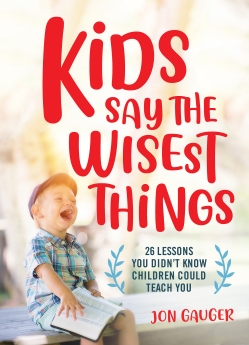 Kids Say the Wisest Things
by Jon Gauger. Instead of writing a book about how to be a better parent, Gauger helps us see how to be a better parent and a better Christian by sharing real-life stories from children that help us think about how we are living and parenting.
Kids Say the Wisest Things
is subtitled 26 lessons you didn't know children could teach you. As you might expect this book has 26 chapters, each with a real-life story from children and thoughts about how to learn and grow from something a child did. Some of these stories are funny but mostly they just make you think and consider how to do the Christian life a little better.
Kids Say the Wisest Things
was an enjoyable read all the way through. I like that the lessons were easy to read, a few at a time. Then I took time to think about them and came back to the book for some more. I like that this book is fairly small and easy to tuck in my purse or book bag to read on the go too. Some of my favorites were: Now Let's Try that Again, We're Still on the Tire!, Surrender the Pilot Seat!, Just like My Transformer, and You are not making me Happy! The lessons were all good reminders to keep living each day for Jesus. Also, reminders that little ones are often watching us and looking for God all around them.
Kids Say the Wisest Things
would also make a nice gift for someone. I also like that the cover is cute and eye-catching.
I received this book from the publisher. I was not required to write a positive review.