Niko's Night and Day by Colleen Oakes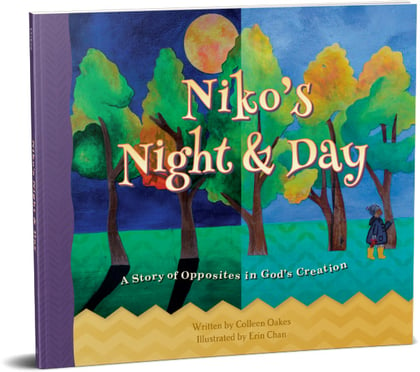 Niko left his train in the woods. When he left it he had been playing outside on a beautiful sunny day. Now it was night time. But Niko went to retrieve the train in the dark. However, the woods didn't look the same.
Niko's Night and Day
by Colleen Oakes tells the story of opposites through Niko's trip to find his train. Through Niko's eyes we see God's creation in the day and in the night.
I adore
Niko's Night and Day
. I thought this children's book was unusual and beautiful. I loved the gorgeous illustrations by Erin Chan and the story told through Niko's eyes. I also liked the pages at the end where Oakes tells how the story is paralleled to Bible stories. It is not only a fun book to read but could lead to some good discussions after reading the book.
You can download a sample of this book here:
https://books.cph.org/nikos-night-and-day-a-story-of-opposites-in-gods-creation-by-colleen-oakes
I received an electronic copy of this book from the publisher. I was not required to write a review.