Extraordinary Influence by Dr. Tim Irwin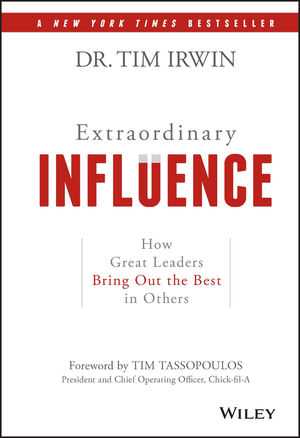 Extraordinary Influence
by Dr. Tim Irwin offers helpful guidance for every leader that asks themselves, How do I bring out the best in those I am leading? Rather than use "constructive criticism" which doesn't work, Irwin encourages leaders to use affirmation to encourage others to be better employees, students, athletes or family members. The application applies to any type of organization and helps to create a healthier environment for everyone.
Extraordinary Influence
is divided into three parts. In the first section, Dr. Irwin talks about the science of extraordinary influence. He shares actual research results to explain why it works so well. In the second section, he talks about how extraordinary influence works by sharing many real-life examples of how this process helps organizations be at their best. The third section offers information on special applications of the extraordinary influence principle.
I found
Extraordinary Influence
to have helpful advice for leading at both work and in the home. I especially enjoyed the chapter on leading the family's personal aspects versus the family's welfare for those entrusted to our care.This is a book that could truly make both organizations and families be at their best if everyone would read it. I highly recommend it.
I received E
xtraordinary Influence
from the publisher. I was not required to write a positive review.